Micron |

Electrostatic Powder Coating

Micron Metal Finishing is a full service large volume custom electrostatic powder coating job shop serving Chicago, surrounding suburbs, Illinois, Wisconsin, Indiana, Michigan and the Midwest region. In our state of the art 75.000 sq ft facility we have three conveyorized lines with state of the art automatic reclaim booths and two batch operations. We can handle parts as large as 90" x 40' x 120" and parts as small as nuts and bolts.

With the capability of running multiple colors on multiple lines we have the flexibility to be able to service you with the highest quality finish in the time frame that will allow you to gain a competitive edge in our time sensitive market. With two batch booth operations we can provide you with samples the same day. We understand the need for reliable service in today's market and have put systems in place to provide thai service to our customers.

Our management team has over 100 years in the metal finishing business and have committed to growing this company by providing the highest quality parts and service to our customers that will be second to none. From the initial design aspect to the delivery of the final part we look forward to assisting you in your finishing needs and hope to provide a service that will allow you to concentrate on manufacturing the product while we concentrate on finishing it. Our doors are always open and we welcome visitors to our new facility.

Micron

| On the Line

Here is an example of some of the parts that are currently being processed at Micron Metal Finishing.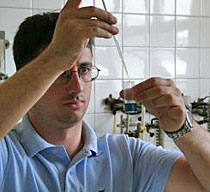 Micron

| Quality Check

Here at Micron we pride ourselves on our high quality standards. To be able to achieve these standards we have a full in-house lab that can run various tests and procedures. From simple cross hatch and impact testing to more intense testing such as hi pot and boiling test we can handle all of your quality requirements.
Micron | EcoNotes
At Micron we believe in being eco friendly and strive to improve processes continually to reach that goal. Since the powder coating itself is environmentally friendly and the EPA #1 choice for metal finishing we took a look at our process for ways to improve.
Recently we introduced a new process in which we can filter and reuse our pretreatment chemical thus reducing waste and water consumption. Please check back in the near future to see what new ways we've implemented to satisfy our go green philosophy.
Micron

| Quote of the Day

Character is doing what's right when nobody's looking. J.C Watts, JR