About Us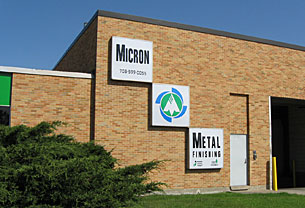 Vision
Micron Metal Finishing was started with one goal in mind "To provide the highest quality metal finishing combined with the best customer service in the industry." To achieve that goal we have established a management team with over 100 years of experience in the industry. We also always continue to strive to be the leaders in the industry and always look to new technologies to accomplish that vision.
Certifications
Micron Metal Finishing is a proud member of sevetal groups and associations which pertain to the metal finishing industry. Along with being members of associations many of our management team sit on several committees and boards for the associations.
DuPont Star Coater
DuPont Powder Coatings considers its Star Coater members as the crème de la crème of custom coaters. They are the innovators in their industry, and each of them is dedicated to constant improvement, learning, and change. These are the unique custom coaters who want to take the extra step to improve business practices and see value in our program as a means to that end. They turn to DuPont Powder Coatings to assist them in growing their businesses into efficient, productive, well-managed, and profitable business models within the custom coater market.
Member of the Powder Coating Institute
The Powder Coating Institute (PCI) represents the North American powder coating industry, promotes powder coating technology and communicates the benefits of powder coating to manufacturers, consumers, and government. Formed on May 1, 1981, as a non-profit organization, PCI works to advance the utilization of powder coating as an economical, non-polluting and high quality finish for industrial and consumer products
Micron Environmental Stewardship in Manufacturing
Micron statement on environmental policies and practices with respect to equipment, processes and personnel work environments.
Product Finishing – March 1, 2022
- Published Article -
Growth Through Collaboration, Year After Year
PRODUCTS FINISHING – Micron Metal Finishing is featured on the home page article on the publication's website explaining the spirit of collaboration that permeates Micron… between the owners to employees and extending to their customers.
The complete article can be read here on the Products Finishing website – Growth Through Collaboration
Or a PDF of the article can be downloaded here – Growth Through Collaboration

Also – 2018, 2017, 2016, 2015
- NEWS RELEASE -
Micron Metal Finishing Is One of Top Finishing Shops In U.S. for 2019
CINCINNATI, Ohio – Micron Metal Finishing has been named one of the best finishing shops in the U.S. for 2019, according to an industry benchmarking survey conducted by Products Finishing magazine, a trade publication which has covered the industry since 1936
The magazine conducted an extensive benchmarking survey that analyzed hundreds of finishing companies in several different areas, including Current Finishing Technology, Finishing Practices and Performances, Business Strategies and Performances, and Training and Human Resources.
Only the top 50 shops were given the honor of being a Products Finishing magazine 'Top Shop' based on a scoring matrix in those four criteria. Seven of the Top Shops were located in Canada, and the remaining 43 were located in the U.S.
Micron Metal Finishing has established itself as one of the best finishing operations in the industry," said Tim Pennington, editor of Products Finishing magazine. "The criteria we used was very stringent, and only the top finishing shops that excelled in all four areas made the list. Micron is in rare air when it comes to finishing operations."
Micron Metal Finishing is located in 8585 S. 77th Ave., Bridgeview, Illinois and offers a variety of powder coating and dip coating services.
"We are extremely excited and pleased to be named one of Products Finishing magazine's 'Top Shops'," said Brad Watt, owner of Micron Metal Finishing. "Our employees and management team have worked very hard to be the best in the industry, and to provide our customers with quality service."